Federica Bueti
On Experiences and Choices Part 2
May 19, 2017 — 13:54
DAI students Mónica Chaminé Lacerda and Wilfred Vlad Tomescu are the respondents to this afternoon's session
The afternoon session begins with a lecture by novelist Karin Amatmoekrim on Dutch-Surinamese Anil Ramdas and questions of identity and 'habitat'. Respondent is cultural anthropologist Sinan Cankaya, who asks the question: what is the place of the black intellectual in the Netherlands?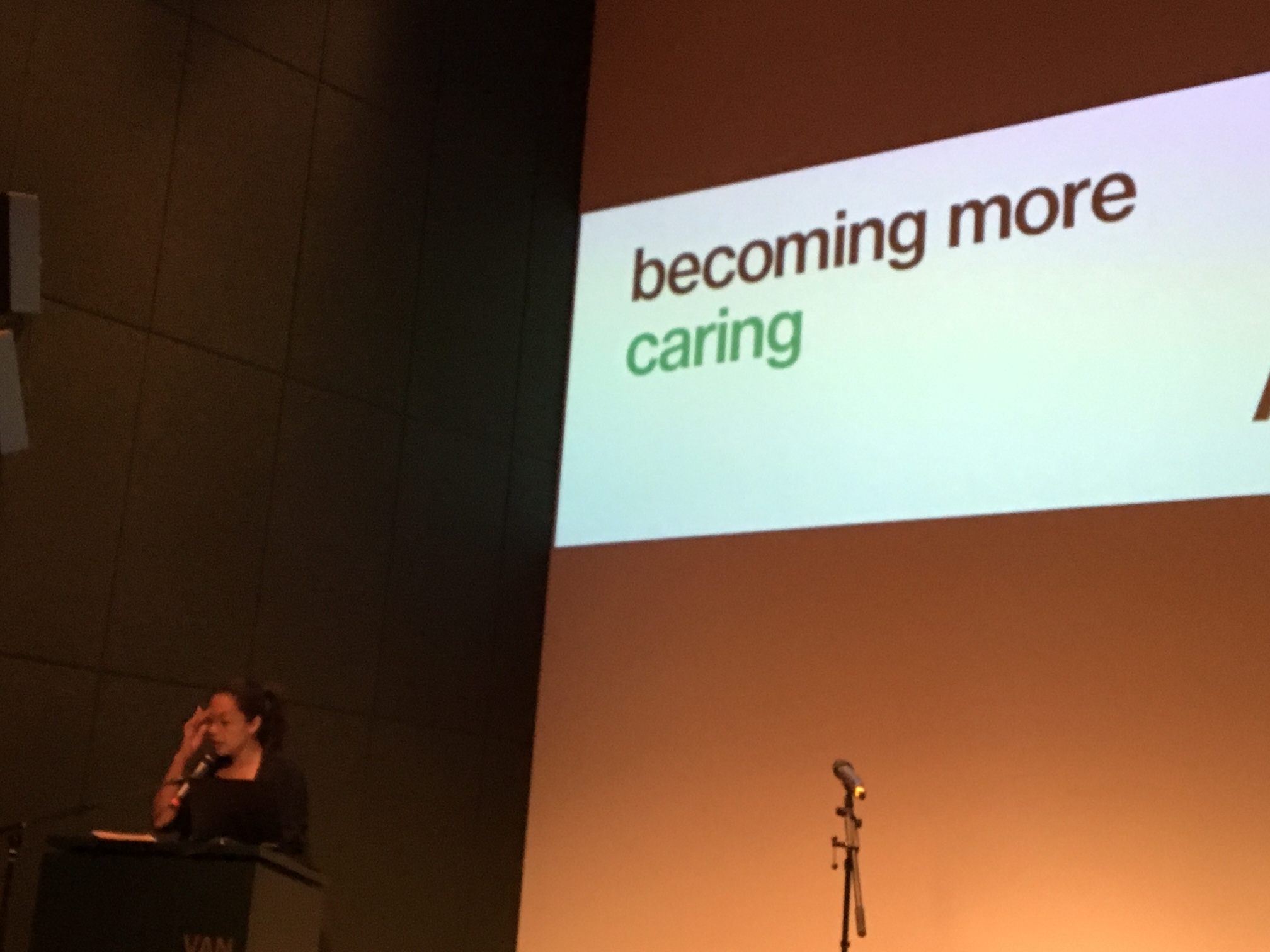 The second presentation is by Paul Goodwin. As cultural practitioners working in white institutaions often hostiles to black culture and aristic production, how to navigate these institutions? Where do black people situate themselves within these white-institutions? He proposes to think of the 'recalcitrant practitioner' who resists a call to order. Recalcitrancy is a form of refusal, 'a quotidian form of resistance to authority.' The respondent to Goodwin's talk is is the Head of the Curatorial Department at the Tropenmuseum, Wayne Modest.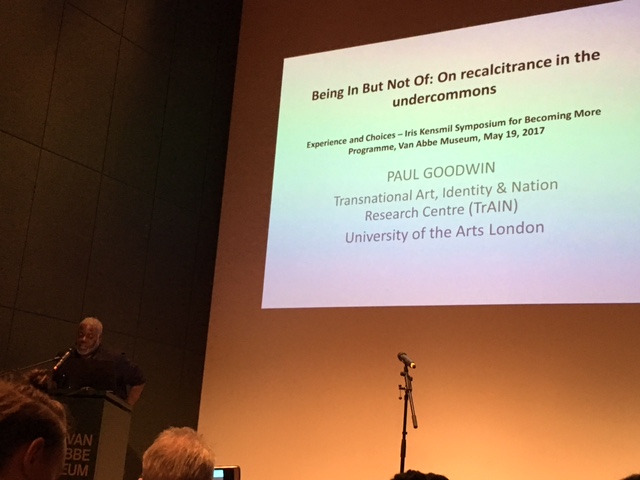 Read more…
Areumnari Ee
What Now?
May 19, 2017 — 12:43
Mitchell Esajas and Jessica de Abreu
OUR ROOTS – OUR HISTORY – YOUNG SURINAMES BORN IN NL – HISTORY OF SLAVERY – BATTLE FOR INDEPENDENCE – BEAUTY OF FIGHT – SO MUCH ENERGY – PROUD – NEW URBAN COLLECTIVE 'IMPROVE EVERYDAY' – EDUCATION IS THE MOST POWERFUL WEAPON THAT YOU CAN USE TO CHANGE THE WORLD – NELSON MANDELA – PERSONAL DEVELOPMENT & SELF-CONSCIOUSNESS – IT TAKES A VILLAGE TO RAISE A CHILD – NETWORK – STUDENTS KNOW VERY LITTLE – THE IDEA OF COLLECTIVE WAS BORN – GATHER TO EMPOWER EACH OTHER – TELL THE STORY – PASS THE STORY – SHARE – PARTICULAR SOCIETY ISSUES THAT WE CONFRONT – #DECOLONISINGUNIVERSITY – STOP ZWART PIET – TOGETHER WITH OTHER ACTIVIST GROUPS – DEMONSTRATIONS – NU CAFE: THE BLACK ARCHIVES – BLACK MINDS MATTER – HISTORY IS A SOCIAL CONSTRUCT – IT CAN BE RECONSTRUCTED – CHOICES WE MAKE – WHAT VOICES SPEAK – WHAT ARCHIVES AND DOCUMENTS – HISTORY THAT WE CONSTRUCT – NOT THE DOMINANT STRUCTURE OF POWER OF THE NATION SOCIETY – SHED PAST – SHED ROOTS – SHED A GROUP – SOME THINGS ARE NEVER TOLD IN SCHOOL – RESISTANCE SIMPLY HELD BACK – TRADITIONAL – SLAVERY – BLACK HISTORY – WHAT A PITY – IN NL WE DON'T HAVE SURINAME HISTORY – NOT MUCH IS HAPPENING – WHITE INNOCENCE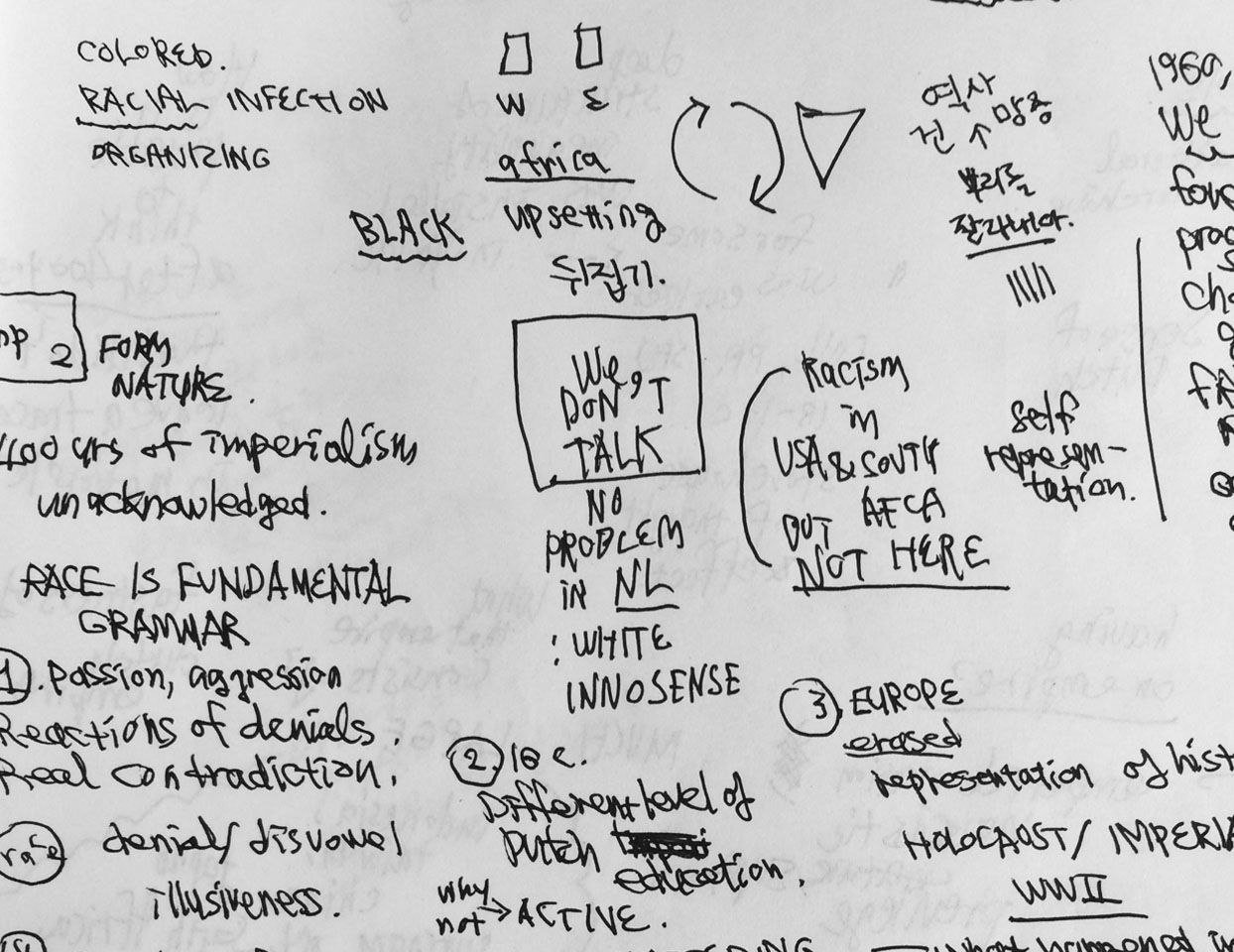 – urban collective – writing history and all the fights – role as a woman – women are not mentioned – the black are also quiet!
Read more…
Pitchaya Ngamcharoen
The Lost Archives
May 19, 2017 — 12:36
Shall we give a second life to these books and stories?
May we elevate our lovely land
We are lost in the history
We are lost within the process
A process of selecting history
We left unspoken
We try to retrieve, bring it back to live
Keep telling the stories
Continue with Literature
How we came here together
We are dedicated to the soil
History equals social construction
Let's not forget
Let's not leave too much behind
Working we keep in mind
Shall we give a second life to these books and stories
Justice and truth will set us free
All that is great to watch
Give value to our land
To where we came from
Rise country people, rise
The soil is calling you
Our body is a document
Every single cell in our body, blood in our veins
It's where we came from
Be rooted
Wherever our ancestors came from
There is a fight to fight, we shall not be afraid
Shall we give a second life to these books and stories?
Read more…
Areumnari Ee
My Position: Amsterdam – Gwangju
May 19, 2017 — 12:29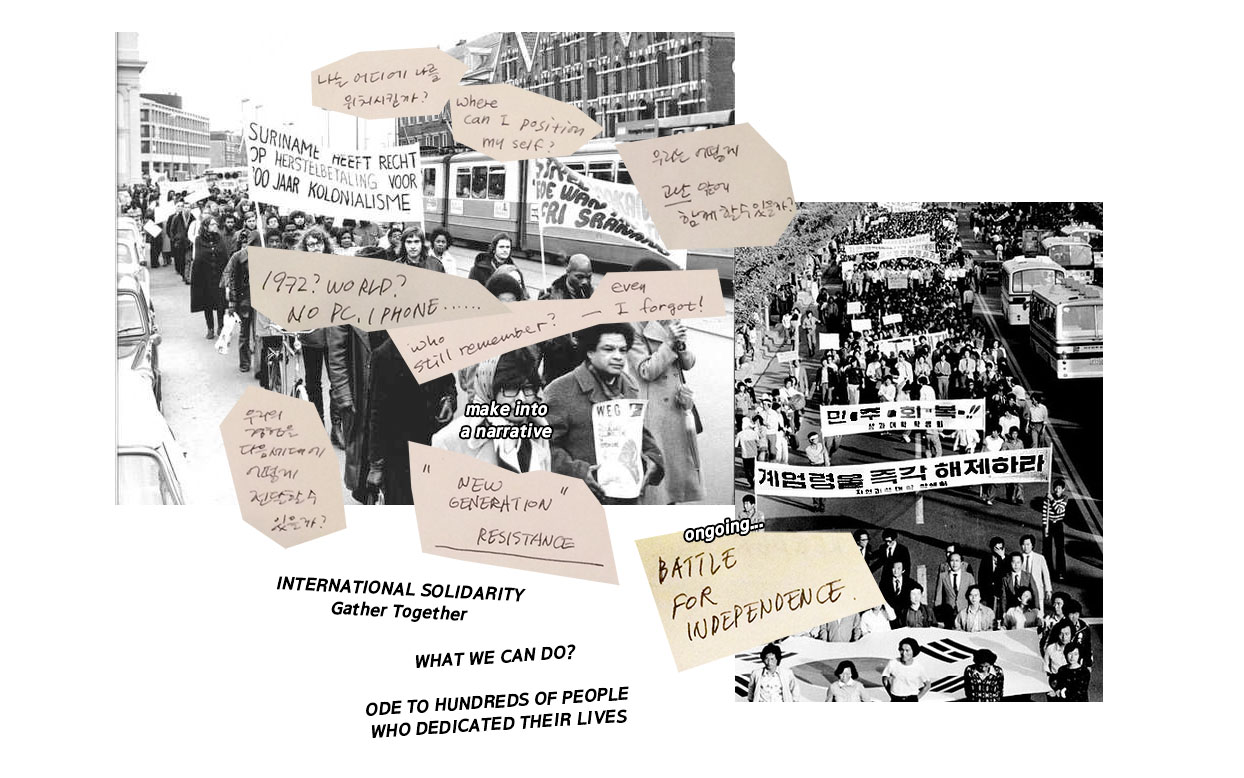 Gloria Wekker's lecture last night made me think about how I can approach and comment about this. Apparently lots of young black Dutch people came here to attend this inspiring lecture. I was among the few people there who had to wear a translating machine. In terms of ongoing struggles, hidden voices, I definitely sympathized with them. My question started from positioning myself with respect to how I remember past struggles as a motivation – and also as a young generation. How can the old generation's struggle remain and transfer to me as a present form of resistance? My point went further in connecting the two cities: Amsterdam and Gwangju. Okay, now we share within our despair, for equality and justice.
In the world of 1970, before I was born, the delivery of information wasn't so easy like today. Resistance was accompanied with physical activities, sweat and all-nighters. How can we continue that physical craving in the digital era? It is very hard to keep the momentum up these days. Sharing is so easy through the Internet. So I think that will also be part of our resistance, to keep this momentum up in this high-speed era. We need to see each other more, we need to share and be together more. I felt that after the talk, when everyone was standing and clapping.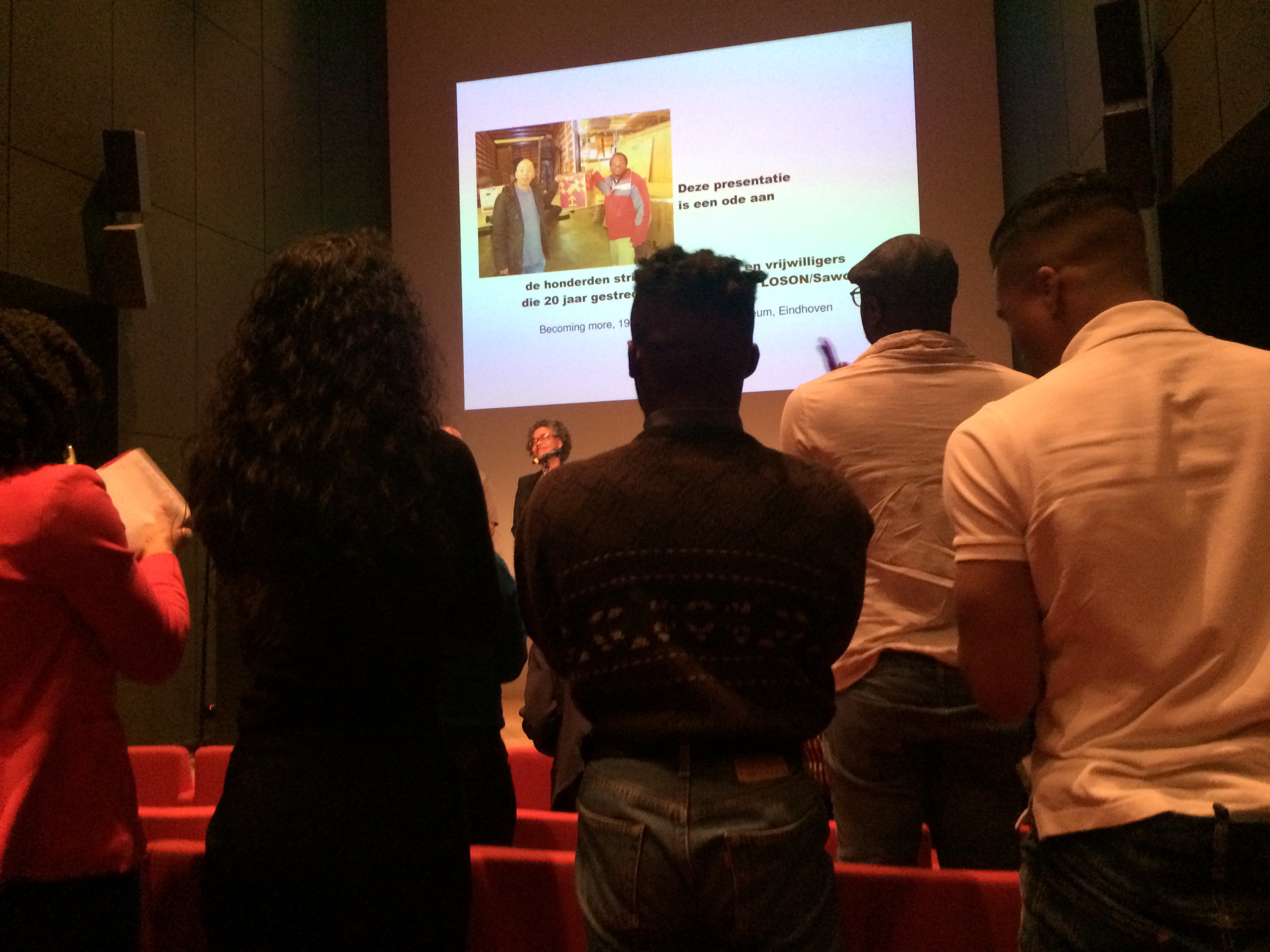 Read more…
Pitchaya Ngamcharoen
GATHER TOGETHER: SOME NOTES
May 19, 2017 — 11:57
Suriname Resistance: History and Future of Black People's Struggle
Collected here are a series of reflections in the form of personal notes in response to Ernestine Comvalius and Andre Reeder
Younger generation lost the sense of the battle and has no idea what has happened
The loss of realization
1972 after 2 years in NY
Refuse to close your eyes
1972 no computer no Internet
Making pictures was unusual; not many broadcast stations
Document made on typewriter
Pencil paper leaflet
South Africa army; many countries doing battles
Vietnam demonstration
Social demonstration
Going back to Suriname
Anti-colonial afford
Going back under cover name
Large-scale publication gets people to subscribe and talk to other people
Leninism Marxism
People are not cognizant of the political
Fell completely, felt compelled to write to the community here
Suriname community grow
Concentration
People from Suriname will be stopped at Schiphol or stopped on the plane and not settle in Bijlmer
We stuck in a small room
Instead of 2 years some people stay 6–7 years
Protest for bad accomodation
ผู้คนยังรู้สึกว่าที่นี่สามารถเกิดความเปลี่ยนแปลงได้
16-year-old had been hung
Turkish comrade
GATHER TOGETHER
Seen as a danger
Listen to their pain and stories
Bring body
Commemoration
Money gathered
Those who had been left behind
1992 critical declined
How to gain
Read more…
Federica Bueti
On Experiences and Choices Part 1
May 19, 2017 — 11:15
Dutch Art Institute (DAI) students Pitchaya Ngamcharoen and Areumnari Ee are the respondents to this morning's session
On Experience and Choices is a series of talks and discussions that address the experiences and cultural contexts of black emancipatory struggles in the Netherlands.
We kick off the coverage of Day One of Becoming More from the Van Abbemuseum auditorium with a stunning presentation by Ernestine Comvalius and Andre Reeder on the Suriname people's resistance and political struggle in the Netherlands, or in the words of the presenters, 'an ode to the hundreds of people who we have connected our lives to'.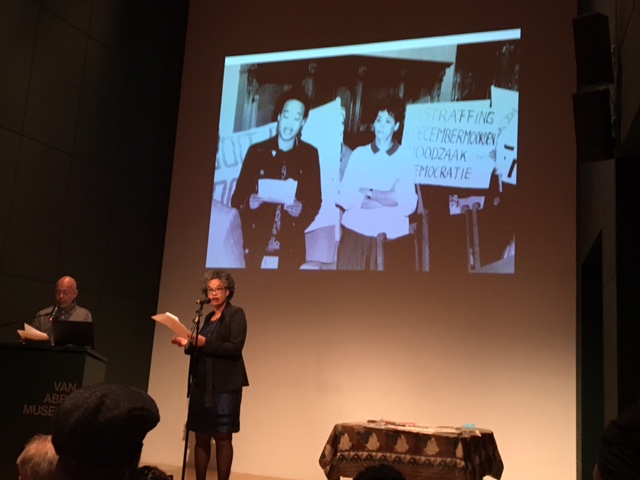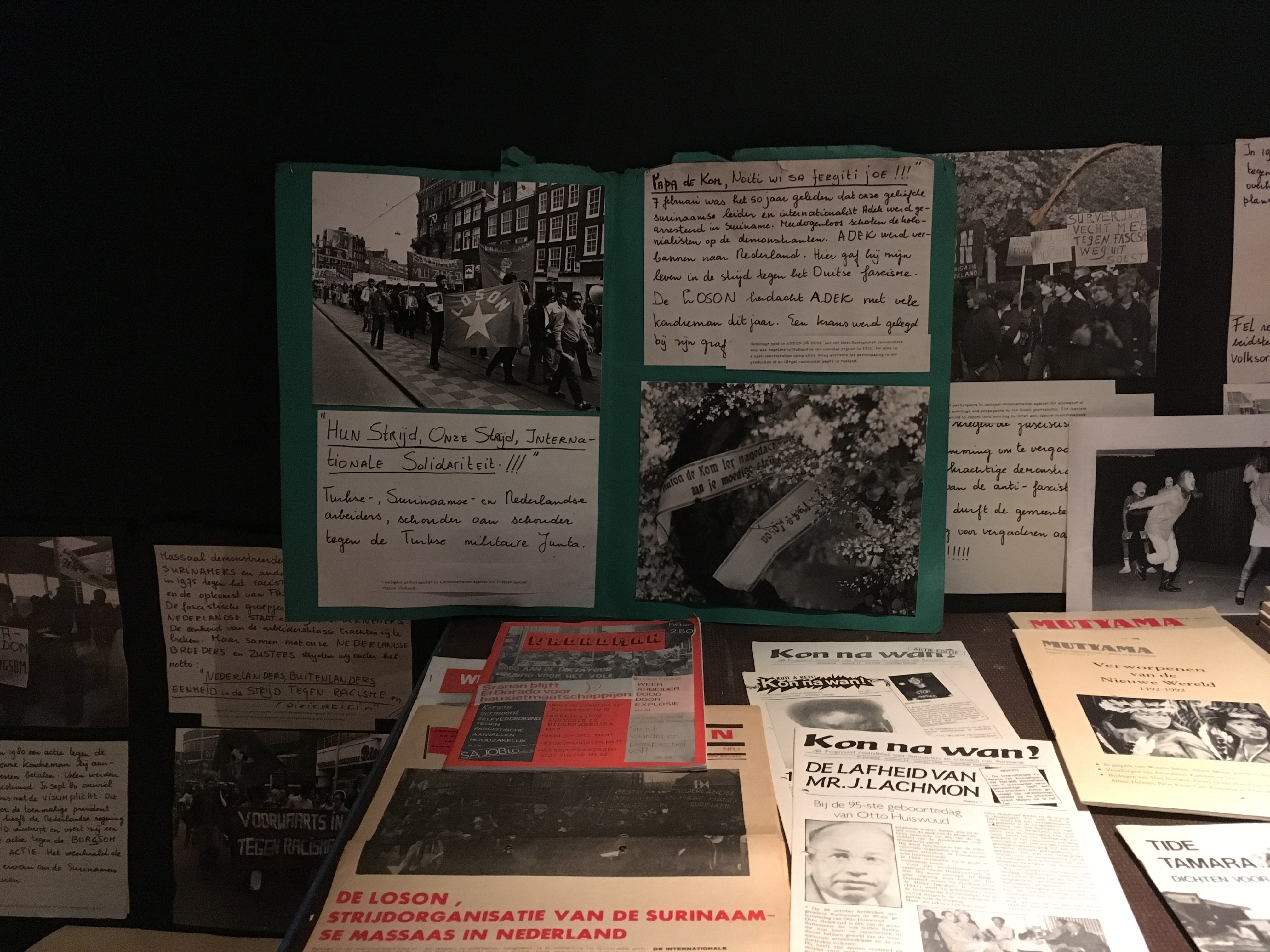 Read more…
Federica Bueti
Keynote Lecture: Gloria Wekker – Beyond White Innocence
May 19, 2017 — 09:20
How to be free and situated? Thrilling lecture by Gloria Wekker on race as grammar of difference
The ten-day public programme Becoming More was launched yesterday evening with an exhilarating lecture by Gloria Wekker.
Wekker addressed what she described as 'white innocence' in Dutch culture. She discussed the specific context of the Netherlands and pointed to the too easy assumption that Dutch imperalism didn't leave any traces on Dutch culture. Wekker asked, how is it possible to think that four hundred years of imperalism has left no trace in the culture of Dutch people? How do we tell stories about who we are? And, how do we keep these narratives standing and how do we work to undo them? Through a series of anecdotes and theoretical reflections, Wekker emphasized the necessity to attend to race, to dig into the 'cultural archive' (a term borrowed from Edward Said), that storehouse that hosts knowledge, attitudes, references and feelings, and consider how imperialism has shaped white Western culture. Imperialist histories do not belong to a distant past. They shape our present culture. Quoting writer Toni Morrison, Wekker asks, how do we address race? How to be free and situated? How to build a race-specific, yet not racist home? These are some of the questions that will be addressed over the course of these ten days.
During her lecture, Wekker kept returning to Morrison's novel Home. This book asks and attempts to give an answer to a crucial question, what kind of selfhood is possible to possess when we come from a spiritually impoverished home, one that fails to concede, let alone nourish, each inhabitant's worth? This novel is a must-read. Here's a link to a review of the book: www.nytimes.com.
Read more…
Federica Bueti
About Becoming More
May 16, 2017 — 15:21
DAI MA Art Praxis is the main partner of the Van Abbemuseum's caucus Becoming More. DAI's Open! COOP Academy Publishing Class is pleased to present live coverage of the symposia taking place on Friday 19 – Sunday May 21 in the Van Abbemuseum's Designhuis.
For Becoming More, the Van Abbemuseum invited artists, organizers and thinkers working in the Netherlands to author distinct days, bringing different forms of knowledge and experiences into the museum. The programme is the outcome of these extensive discussions from which a series of urgent topics have emerged.
See the full programme and synopsis of each presentation here.
Read more about the DAI-week programme in Eindhoven here.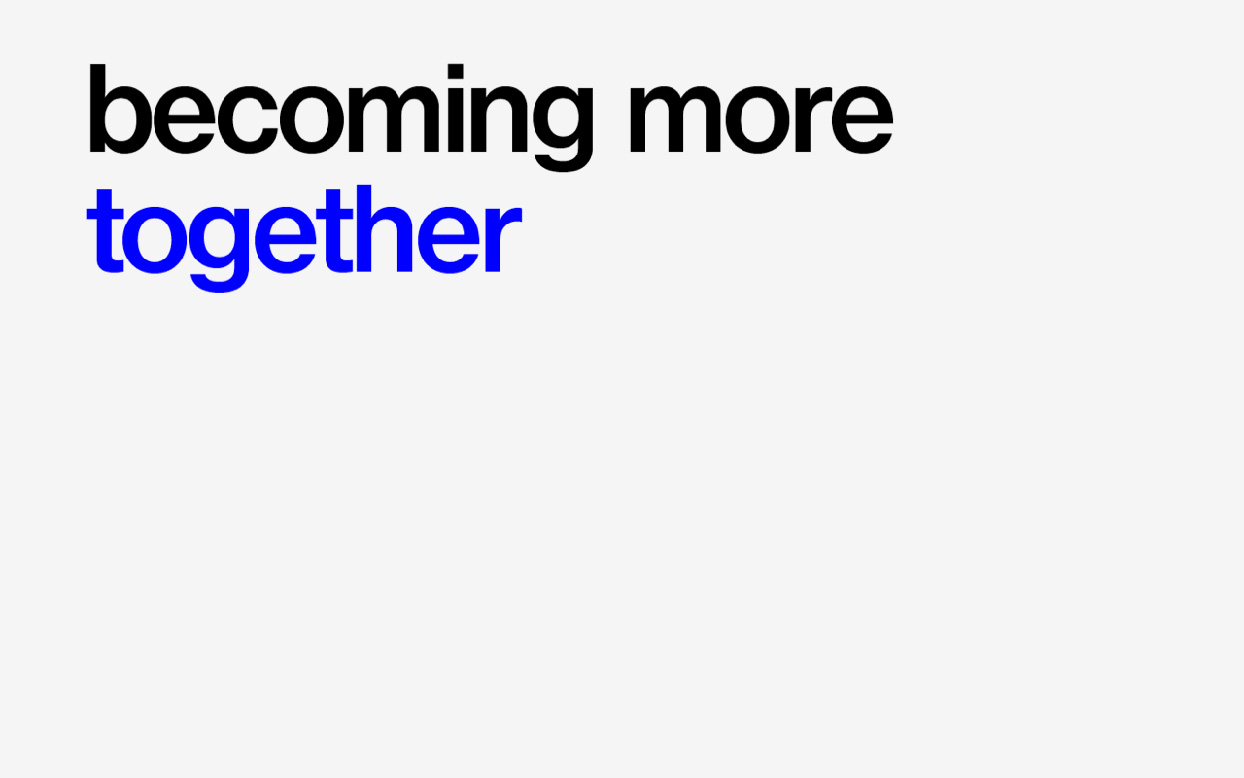 Becoming more awake
Becoming more equal
Becoming more resistant
Becoming more feminist
Becoming more loving
Becoming more strategic
Becoming more articulate
Becoming more energised
Becoming more artistic
Becoming more black
Becoming more political
Becoming more conscious
Becoming more caring
Becoming more together
Becoming more active
Becoming more de-colonial
Becoming more deviant
Becoming more local
Becoming more queer
Becoming more intersectional
Becoming more de-modern
Becoming more inclusive
Becoming More is a ten-day rich programme of lectures, performances, screenings, commissions, discussions and food hosted by the Van Abbemuseum, Eindhoven in partnership with DAI Roaming Assembly #14.
On the tenth anniversary of Be(com)ing Dutch, it is important to ask what has actually been achieved. We need to critique the museum as a project in the twenty-first century and take this moment to ask our peers how we might implement more institutional thinking developed in and from our community. It is time to come together to strengthen existing alliances and to develop new affinities. In the face of increasing division and isolation, militant and essentialist forms of identity are gaining new traction throughout the world. The museum wishes to stage an inclusive and discursive event, which asks whether art and creative networks can provide productive and critical space in which new solidarities can be formed, and new social and political visions can be developed. In other words, how can we become more?
We believe at this critical juncture of unrest, it is vital to listen, consolidate and share. The programme is the outcome of these extensive discussions from which a series of urgent topics have emerged.
Here's a glimpse of the programme:
Thursday 18 May: Lecture by Gloria Wekker
Friday 19 May (day 1): On Experience and Choices, convened by Iris Kensmil
Saturday 20 May (day 2): Future Caucus, convened by Eric de Bruyn and Sven Lütticken
Sunday 21 May (day 3): Towards Entangled Modes of Becoming More, convened by Emily Pethick and Leire Vegara as part of the

DAI

's Roaming Assembly #14
Monday 22 May (day 4): The Kitchen / Not the Restaurant, lecture performances by 13

DAI

students
Tuesday 23 May (day 5):

DAI

projects
Wednesday 24 May (day 6): Practice against the Persistence of the Mercantile, lecture Rachel O'Reilly
Thursday 25 May (day 7):

DAI

openings and Agents of Change
Friday 26 May (day 8): session convened by Vaari Claffey, Sam Keogh and Agents of Change
Saturday 27 May (day 9): Krut'krutu, convened by Charl Landvreugd
Sunday 28 May (day 10): House Rules?, convened by Frontier Imaginaries with As Long As it Takes (Bijlmerpark Theaer, HipHopHuis and University of Colour)
The ten-day event opens on the evening of the 18 May 2017 with a dinner at the Designhuis; an intervention, A Kind of Black (Zoden aan de Dijk) by artist Jabu Arnell; and a keynote lecture by Professor Emeritus of Gender Studies at Utrecht University, Gloria Wekker.
Wekker is the author of several books, including The Politics of Passion: Women's Sexual Culture in the Afro-Surinamese Diaspora (2006) and White Innocence (2016). In the latter, Wekker explores a central paradox of Dutch culture: the passionate denial of racial discrimination and colonial violence coexisting alongside aggressive racism and xenophobia. Accessing a cultural archive built over 400 years of Dutch colonial rule, Wekker challenges Dutch racial exceptionalism by undermining the dominant narrative of the Netherlands as a 'gentle' and 'ethical' nation. Wekker analyses the Dutch media's portrayal of black women and men, the failure to grasp race in the Dutch academy, contemporary conservative politics (including gay politicians espousing anti-immigrant rhetoric), and the controversy surrounding the folkloric character Black Pete, showing how the denial of racism and the expression of innocence safeguards white privilege. Wekker uncovers the postcolonial legacy of race and its role in shaping the white Dutch self, presenting the contested, persistent legacy of racism in the country. Here's a link to one of Wekker's lectures on 'white innocence': www.youtube.com.
The respondent is Nancy Jouwe, a cultural producer and one of the initiators of the Mapping Slavery NL project, which maps the traces of the Dutch role in the history of slavery. Until 2013 Jouwe was programme director at Kosmopolis Utrecht, a platform that nourishes dialogue between communities through art and culture, both nationwide and in an international context. Jouwe was also director of Papua Cultural Heritage Foundation in Utrecht. Jouwe co-published several books, including Papua's? Oja, die bestaan echt, hè? Een inventarisatie van de positie van Papuavrouwen in Nederland, 1958–1992 (with Marlise Mensink, 1993) and Caleidoscopische Visies. De zwarte, migranten- en vluchtelingenvrouwenbeweging in Nederland (with Maayke Botman and Gloria Wekker, 2000). In 2012 she published Paradijsvogels in de polder. Papoea's in Nederland with KIT Publishers.
Follow the live-coverage on Open! blog.
Read more…